Eighteen-year-old Ms. Kezia King's dream of pursuing a degree in Social Work at the University of Guyana (UG) has become a reality with the help of the Ministry of Public Service.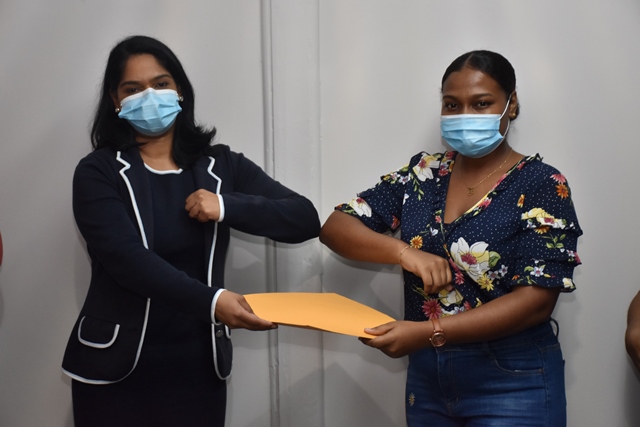 Kezia's life changed drastically ten months ago after her mother was brutally killed in front of her and her younger brother. In an effort to move on with her life, the young woman enrolled at the University of Guyana to pursue a degree, but with limited financial resources, this proved challenging.
However, on Wednesday, Kezia was given a full Government scholarship to attend the university.
Minister of Public Service, Hon Sonia Parag, told DPI that she learnt of Kezia's plight after reading an article in a local news publication.
"After I learnt of this horrific tragedy, I decided to reach out to Kezia and speak with her with a view to granting a scholarship. I was moved by her determination to take such a traumatic experience and turn it into something constructive which would benefit others," the Minister said.
Kezia, who hails from Bartica, travelled to Georgetown with her aunt, Ms. Kellyann Speede and uncle, Mr. Lennox Lyte to meet the Minister. Speaking to DPI at the Minister's Waterloo Street office, Kezia was overwhelmed with gratitude.
"I appreciate the steps they have taken in trying to help me and my sibling. This is a big step for me because of what I've been through," she said.
The young woman is currently in her first year at UG and plans to work for the Government once she has completed her programme. She wants to help people, particularly women, who are in similar situations.