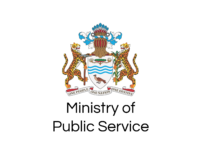 Cooperative Republic of Guyana
Ministry of Public Service
VACANCY ANNOUNCEMENT
The Ministry of Public Service invites suitably qualified persons/individuals to fill the vacant positions:
2. Student Affairs Officer I
Qualification and Experience
Bachelor's Degree in Public Management, Public Administration, International Relations, Social Work, Political Studies or Communication from a recognised University or institution PLUS one (1) year working experience in a training organisation.
Applications along with detailed Curriculum Vitae should be submitted to the Office of the Permanent Secretary, Ministry of Public Service via email  ps@mps.gov.gy AND Minister of Public Service's Secretariat ministersecretariat@mps.gov.gy, not later June 17th, 2022.