— new PPP/C Gov't committed to increasing opportunities for youth
DPI, Guyana, Monday, August 17, 2020
In keeping with its commitment to develop youth and increase access to opportunities, the new PPP/C Government will be providing 20,000 online scholarships to Guyanese to enable their educational and professional advancement within the next five years.
This was revealed by Minister of the Public Service, Hon. Sonia Parag, who noted that this initiative is one of the PPP/C's manifesto assurances.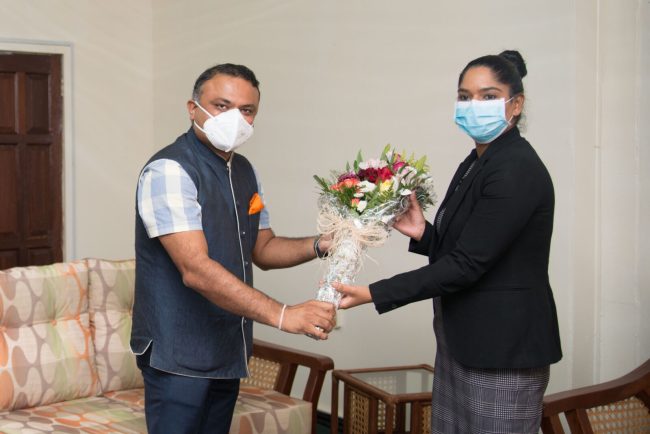 Already, the Minister has secured an increase in scholarships to Indian Universities following a courtesy call with the Indian High Commissioner, His Excellency, Dr. K.J. Srinivasa, on Monday.
She revealed that previously, only 24 scholarships to India were offered.
"What we will do is strengthen our bilateral and multilateral relations with our current providers of scholarships… that is one of the immediate policies we plan to implement,"Minister Parag explained.
The Minister further noted that currently, India is exploring the transition to full-time online education delivery, in wake of the COVID-19 pandemic, which has greatly restricted in-person lectures and physical learning environments globally.
Additionally, Minister Parag, in her early days of office, has taken a hands-on approach at improving the efficiency of the public service, noting that the Ministry will serve a threefold purpose; Policy Development and Administration, Human Resource Management, and Human Resources Development.
The PPP/C Government will be implementing a performance analysis system to restructure and vastly improve public sector services for greater efficiency. Among the Government's plans are to professionalise the public sector, bringing it up to par with modern standards to deliver better quality.
"[We will] restore confidence in the public when they have to deal with the Public Service," the Minister said.
Scholarships are currently being offered in dozens of subject areas at the Bachelors, Masters, and PhD levels to the University of Guyana, the University of the West Indies, and various universities in China, the United Kingdom, the United States and India.
For more information on the Government of Guyana and Donor scholarships, see here.